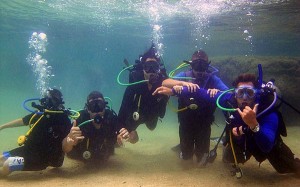 • Scuba & Snorkeling Trips
• Only North Shore Boat Dives
• Daily Shore Dives ~ Islandwide
• Free Introductory Lessons
• PADI Scuba Classes
• Private Charters
Welcome to Watersports Adventures. We offer something the whole family can do together. Between scuba diving and snorkeling there is something for everybody! We offer a variety of daily scuba diving and snorkeling activities. We prefer and specialize in small groups so that everyone gets the personal attention they need and deserve. With over 30 years of local experience our knowledgeable staff will make your diving adventure with us truly amazing and unforgettable!